Updated: March 10, 2021 by Richard Cole
I have always been fascinated by grand acoustic pianos, especially their longer keys and elegant looks. Unfortunately, they're beyond my reach as they're too expensive for me.
Left with no option, I've had to explore the cheaper and reliable alternative that is an electric piano. I know I am not the only one. Many first-time buyers are gravitating towards them too.
How good are they? Some of the latest models sound nearly as good as grand acoustic pianos, and they are cheap too. If you are looking for an inexpensive electric piano, then you have come to the right place. I will show you the best digital pianos under $1,000!
Top Pick
My top pick is the Yamaha P115. Produced by a leading maker of musical instruments, the P115 comes fitted with some of the company's best features.
The Best Digital Pianos Under $1,000 Reviewed
The Yamaha P115 is the best digital piano under $1,000 hands down. It features Yamaha's best sound engine and some of the latest music technology. It is also compact and light, which makes it easily portable. I highly recommend this piano for freelance performers.
Key Features
Pure CF sound engine with tones from Yamaha's famed 9-foot CFIIIS grand piano
Graded Hammer Standard keyboard with 88 weighted keys
Digital piano app with access to all features and settings
Auxiliary jacks that are compatible with external speakers and other instruments
In-built drum rhythms
A USB port to connect to phones and PCs
What I Like
I like the overall power of this piano, especially its powerful sound engine. It features Yamaha's best sound engine and comes with ten in-built drum rhythms. It even sounds like Yamaha's famous CFIIIS 9-foot concert grand piano and comes with 88 GHS keys that are weighted to feel just like an acoustic piano. Easy to play, these key allow you to transition quickly to an acoustic piano.
The tweeters are set up in a way that they line up with your ears when playing meaning you can pick up every tune quickly. You can connect it with external speakers and headphones, too, and access virtually all the settings on this piano via the Yamaha piano app. I also appreciate the fact that it is easy to carry.
What I don't Like
Besides the drum rhythms, this piano does not mimic any other musical instrument. While this isn't a big deal if all you want is a piano, it is more limited than many other digital pianos on the market in this regard.
Pros
Smooth melodies
Weighted keys
Enhanced sound configuration
Powerful app
Cons
The Yamaha P115 is excellent for players with different skills. Beginners will find it easy to learn while pros will find it good suitable for their professional performances.
Overall Rating: 9.6/10
The Yamaha also takes the second spot in our review with another excellent digital piano. The Yamaha DGX-660B features some of Yamaha's best and latest technologies.
Key Features
Pure CF sound engine
88-keys GHS weighted keyboard
Audio recording and playback capability
Score display
Smart chord Technology
What I Like
I like the range of interactive features on this piano, such as the USB recording and playback feature. It taps the power of Yamaha's Pure CF sound engine and sounds like Yamaha's grand CFIIIS concert piano.
The Smart Chord technology helps you create professional-sounding tunes even with minimal skills and experience. You can sing along as you play your piano by connecting a microphone. You can also save your music thanks to the recording and playback feature.
Textured for comfort, its weighted keys re-create that feeling of playing a real acoustic piano. It even comes with an LCD screen display that lets you read the lyrics and score of your music.
What I don't Like
Even though the DGX-660B model is light and compact, I find it bulky and setup is time-consuming.
Pros
World-class tunes
Make your very own music
Easy-to-use keyboard
Keep track of your score and lyrics
Cons
The Yamaha DGX-660B is a multi-purpose electric piano. Beginners will especially appreciate its Smart Chord technology and easy-to-use keyboard. On the other hand, Pros will appreciate its power and music recording capability.
Overall Rating: 9.5/10
A product of Kawai, one of the most reputable makers of pianos, the Kawai ES110 is joining the list of the digital pianos that you can also buy for less than $1,000. It uses a harmonic sound imaging technology.
Key Features
Built-in stereo speaker system
192-note polyphony
Weighted and graded keyboard with Hammer Compact Action
Dual and split modes
MIDI and Bluetooth ports
What I Like
I like the clarity and complexity of the tunes on this piano. They make it sound and feel just like an acoustic piano. Thanks to its advanced sampling technology, you can explore 18 sound samples from sophisticated grand pianos, too. All the keys are graded and feature Hammer Compact Action, so they are comfortable to play and give the feeling of an acoustic piano.
The 192-note polyphony count makes this an excellent choice for pros. With it, you can compose complex tunes. This piano may feel a bit complex for beginners, but it comes with in-built lessons to help you hone your skills. You can take this piano anywhere as it is compact, lightweight, and easy to set up.
What I don't Like
Despite its built-in lessons clearly aimed at those still learning, I wouldn't recommend this piano for beginners as it is on the complex side and can be challenging to get the hang of.
Pros
Beautiful tunes
Comfortable keyboard
High polyphony notes
Onboard lessons
Easily portable
Cons
A bit complex for beginners
Kawai makes some of the best and most expensive digital pianos. However, the Kawai ES110 not only features Kawai's best technology but is also affordable by all standards.
Overall Rating: 9.5/10
The Yamaha YDP143R looks, feels, and performs like an acoustic piano. To top it off, it uses Yamaha's best sound technologies.
Key Features
Pure CF sound engine
Sound samples from Yamaha's acclaimed CFIIIS grand acoustic piano
Graded Hammer 88-key keyboard with weighted keys
Stereophonic Optimizer headphone technology
iOS compatibility
Recording and playback capability
What I Like
I like the elegant look and feel of this piano. It sounds just like Yamaha's best acoustic piano: the Yamaha 9-foot CFIIIS grand concert piano. The Graded Hammer Action technology and weighted keys give this piano the feel and convenience of an acoustic piano, too.
You can also record your performance in addition to two tracks play them back simultaneously. It can be linked to your iOS smartphone or PC to access more diverse settings and capabilities. This piano is excellent for beginners as it is not only easy to use but also comes with a songbook and other learning resources.
What I don't Like
I think this piano could perform a bit better if it came with preset temperaments. Presets are by no means a necessity, but they are a common feature in digital pianos these days.
Pros
Beautiful tunes
Advanced recording and playback capability
Easy-to-use keyboard
iOS compatibility
Easy to learn
Cons
Lacks preset temperaments
Even though the Yamaha YDP143R isn't portable, it looks elegant and comes with excellent playback capability and learner resources.
Overall Rating: 9.5/10
Fitted with Casio's best sound technology, the PX860 BK Privia looks as good as it sounds. The inspiration behind its design and functionality comes from Casio's grand acoustic pianos.
Key Features
Advanced Acoustic and Intelligent Resonator (AiR) sound engine
256 notes of polyphony
Tri-sensor Scaled Hammer Action keyboard with textured keys
Split and layer capabilities and a duet mode
Audio recordings of 10 live orchestra performances
What I Like
I like its advanced sound technology and acoustic-grade performance. This piano features Casio's powerful AiR sound engine that sounds just like the company's grandest acoustic pianos. It also comes with ten pre-recorded orchestra performances.
It is one of the most versatile keyboards on the market. Its keys are weighted, and you can adjust the Scaled Hammer Action to three sensitivity levels. You can also connect your piano to your PC via the USB MIDI port or external speakers/headphones using auxiliary jacks. You can play this piano in pairs, too – student and teacher— thanks to the duet mode.
What I don't Like
This is not a piano that a single person could move around with ease. If portability matters to you, look elsewhere.
Pros
Acoustic-grade tunes
Comfortable keyboard
Versatile compatibility
Duet mode
Cons
The Casio Privia PX860 is one of Casio's most advanced digital pianos. Though it comes with some excellent settings, it is not easy to move around.
Overall Rating: 9.4/10
The Yamaha P71 is the best digital piano under $1,000 in terms of power and portability. It is suitable for freelance performers. You can use it at home or in a studio.
Key Features
Slim, light, and compact
Advanced Wave Memory (AWM) stereo sampling sound engine
88-key fully weighted keyboard
Dual sound mode
Ten different sounds
What I Like
I like the sophistication of this piano and its compact design. It uses Yamaha's Advanced Wave Memory stereo sampling sound engine with samples recorded from Yamaha's grand pianos. There are ten pre-recorded sounds and tones which simulate other musical instruments. Also, you can layer two sounds simultaneously to create more vibrant music.
It is 12 inches thick and weighs only 25lbs, so it is easy to carry around. Since it comes with accessories, you can set it up anywhere you want. The 88-keys are GHS-weighted just like an acoustic piano's keyboard and textured for your comfort, too.
What I don't Like
The P71 is not feature-rich, but this is understandable because of its slim build.
Pros
Powerful sound engine
Diverse sounds and effects
Easily portable
Comfortable keyboard
Cons
The Yamaha P71 is an excellent digital piano for performers who are always on the move. It is powerful enough for professional presentations and simple enough for beginners.
Overall Rating: 9.3/10
This piano from Casio looks so stylish and elegant that it is difficult to believe that it costs less than $1,000. It is designed as a classical upright acoustic piano but features some of the latest sound technologies.
Key Features
Acoustic and Intelligent Resonator sound technology
GHS 88-key keyboard
Classic upright acoustic piano design
Three-pedal system
What I Like
I like the simplicity of this piano. It is ideal for beginners and sophisticated enough for professional pianists. Casio uses its Acoustic and Intelligent Resonator sound engine to simulate the grand acoustic piano.
You can connect to external speakers via audio jacks. It's also possible to connect your piano to a laptop or smartphone and access more dynamic features. You can play this piano for hours on end as its keys are textured and easily accessible.
What I don't Like
This piano lacks some of the latest tech features, such as a piano app, and the keys aren't weighted, so they don't really have that authentic acoustic piano feel.
Pros
Incredible tunes
Powerful speakers
Eighteen pre-recorded sounds
PC and smartphone compatibility
Textured keys
Cons
The keys are not weighted
No app
This Casio model can spice up your performance as it has some beautiful acoustic-piano-grade tunes and pre-recorded tunes from 18 different sound instruments.
Overall Rating: 9.2/10
Korg is an upcoming brand that is rivaling larger brands such as Yamaha and Casio. The Korg B1 digital piano is one of its best digital piano models.
Key Features
MFB Servo sound technology
Eight onboard sounds
Onboard chorus and reverb effects
Hammer Action weighted keyboard
What I Like
I like the simplicity of the Korg1 digital piano and its ease of use in general. Korg's MFB Servo sound stereo technology isn't just powerful, but it sounds just like an authentic acoustic. In addition to the original piano tunes, this digital piano also features eight onboard sounds as well as built-in chorus and reverb effects. The 88-keys are Hammer Action-weighted and textured for extra comfort.
What I don't Like
I think that this piano could do with more features such as compatibility with a variety of accessories. The technology behind it too basic for advanced players or professional pianists.
Pros
Powerful sound system
Vibrant sounds and effects
Comfortable keyboard
Cons
The Korg B1 digital piano is ideal for beginners thanks to its ease of use. However, professional pianists may find it challenging to work with owing to its limited features.
Overall Rating: 9.0/10
The Alesis Recital is the best digital piano under $1,000 for amateurs and beginners. It incorporates decent sound technology and comes with comprehensive learning resources for beginners.
Key Features
Complementary Skoove premium piano lessons
88-key semi-weighted keyboard
Five meticulous voices
Auxiliary jacks and USB port
Battery-powered performance
What I Like
The supplementary learning resources are an excellent addition to this piano. Designed for learners, it comes with a complimentary 3-month subscription to Skoove's interactive piano lessons, which includes one-on-one tutoring.
All the 88 keys on this piano are ergonomically designed to make them easily accessible. They are also semi-weighted to give the feel of an acoustic piano. On top of that, you can connect it to a wide range of accessories like external speakers, headphones, computers, and smartphones. There are five built-in voices on this piano, too: acoustic piano, digital piano, bass, synthesizer, and organ.
Apart from plugging the Alesis into your home power, you can use six D-cell batteries as a power source.
What I don't Like
Because of its simplistic feel, it doesn't look like a piano that could arouse the interest of professional performers. Its features are very basic.
Pros
Great for beginners
Comfortable keyboard
Versatile connectivity
Five meticulous voices
Battery-operated
Cons
Limited features aren't ideal for experienced players
The Alesis Recital digital piano is easy to use and so suitable for starters who want to learn and practice at their own pace.
Overall Rating: 8.8/10
Digital Piano Buying Guide – Factors to Consider
Digital pianos have come a long way. The latest models sound more like acoustic pianos thanks to advances in sound technology. You have a variety of brands and models from which to choose. Each model styles itself as the best, but you don't have to take the manufacturers' word at face value.
So, what determines the worth of a digital? In my opinion, the number of features influences the cost. Here's what to look out for next time you go shopping.
Sound Quality
Some of the latest digital pianos sound just as good as acoustic pianos. However, you can still tell there is a slight difference in sound quality.
The best way to judge the sound quality of any piano is by paying extra attention to the decay and sustain of different individual notes. Good pianos should produce realistic sounds. Of course, this aspect depends on the type of sound engine.
The other factor is the samples used to reproduce these sounds. Yamaha is a trailblazer in this area as it uses the world-famous 9-foot CFIIIS grand acoustic piano to produce sound samples in all its digital pianos.
The speakers' quality and configuration also play a significant role in determining the sound's quality. In-built speakers and tweeters should be crystal clear and positioned in a way that aligns them with your ears. This way, you won't strain to listen when playing. Lastly, the piano should be compatible with high-definition headphones and external speakers.
Variety of Sounds and Effects
Digital pianos are more versatile than acoustic ones as they are capable of generating more sounds other than piano tunes. Some models use pre-recorded sounds from different musical instruments such as drums, flutes, and organs. It's not usual to find a piano with a dozen sounds from different musical instruments and hundreds of effects.
With such a large selection of sounds and effects at your disposal, you will find it easy to compose more diverse and vibrant music. However, you should check to see that the sounds are realistic. If you prefer to stick to just a piano sound, these extra features may also be an unnecessary expense. Consider what you'll really use before making a decision.
Polyphony
Polyphony refers to the number of notes and tones that a piano can produce simultaneously. A high polyphony rating means that you can create more complex music. The best quality digital pianos have polyphony rates of 128-notes or higher and are popular among pros. If you are a beginner, go or a keyboard with a lower polyphony rating. A 64-note polyphony rating should suffice until you fully hone your skills.
Keyboard Touch Response
The keys of an acoustic piano keyboard are naturally resistant because of wooden hammers and other mechanical components. They are also weighted so that the lower keys feel heavier than the upper ones. Both aspects make the keys comfortable and easy to use.
On the other hand, the keys on a digital piano are not naturally weighted. So, they tend to feel like the keys on a computer. As a result, they may feel less comfortable and less enjoyable to use.
It also compromises the quality of your tunes owing to inconsistencies in your fingers' velocity. For this reason, many leading models feature Graded Hammer Action- actual mechanical hammers that simulate the natural feeling of acoustic piano keyboards.
Connectivity and Compatibility
When shopping for a piano, you should keep in mind the ability to connect to a range of accessories. The piano, at the very least, should be compatible with a wide range of sound components such as external speakers (for notable performances) and headphones (for private/silent practice). It will also help if your piano is compatible with smart gadgets such as smartphones and computers. Enhanced connectivity would give you access to more features such as music programs, extra sounds and effects, and piano apps.
Most digital pianos are compatible with speakers, smartphones, and computers. Some of the sophisticated models can seamlessly connect with other musical instruments such as organs and other keyboards.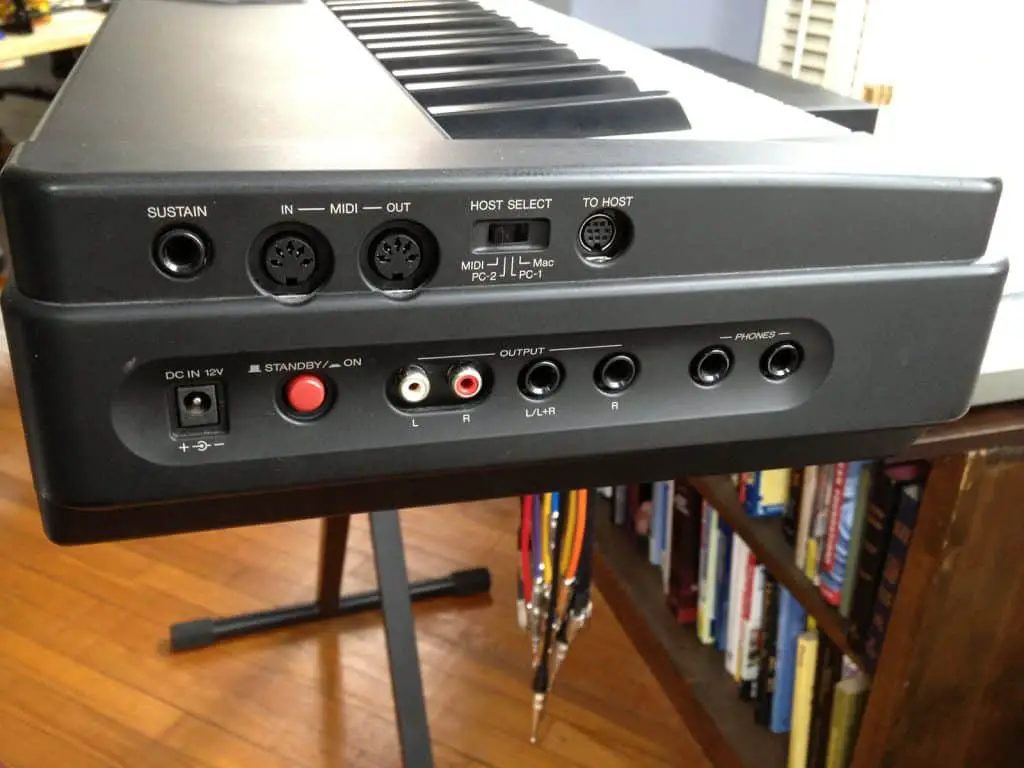 Portability
Acoustic pianos have more parts and are larger than digital ones. The attributes give it unique power and sound quality. On the contrary, these pianos a cumbersome, so moving them around might be a challenge.
Digital pianos may not sound as good as acoustic ones, but they are getting there. They are also much smaller and lighter than the latter, so it's easy to move them around. What's more, they come with extra portable accessories including stands and benches for quick setup. These make them convenient for freelance performers who move from stage to stage or perform in unconventional stages such as in the streets.
However, not all digital pianos are portable. Some are styled in an upright design to look just like acoustic pianos. Some of these are not hard to dissemble, but it is not always easy. Nevertheless, they are still lighter and smaller than grand acoustic pianos.
Recording and Playback Capabilities
It's almost natural for players to want to listen to their performances. Beginners may want to record and keeping track of their progress while pros may do so while producing their music. A good digital piano should be capable of recording your performance as you play.
The good thing is that most pianos come with recording and playback features. Some models are sophisticated enough to record two different sounds at the same time. Other designs include auxiliary ports for microphones in case you wish to sing along to your tunes. I recommend you for a model that has both recording and playback features.
Learning Resources
Most pianists would not be where they are today were it not for digital pianos. They're not only cheaper and easier to access than acoustic ones, but also more comfortable to play when practicing. So beginners can gain the most when they acquire them.
Unless you are a pro, you should check whether the piano you intend to buy comes with learning tools and resources. A good learner's keyboard should have a songbook and pre-recorded piano hits and classics. Some models include advanced learning tools, interactive online classes, and powerful apps.
Final Thoughts
Digital pianos are a cheaper alternative to the costly and cumbersome acoustic pianos. They use the latest sound technologies and sound just as good as their acoustic counterparts. With nine fantastic pianos within our price range, you have options that might suit your budget.
Consider features such as playability, polyphony, recording, and playback capability when shopping for your digital piano. Also, if you are a beginner, complementary learning resources to hone your skills should be considered. I am confident if you follow the leads in this review, you will find the best digital piano under $1,000 for you.